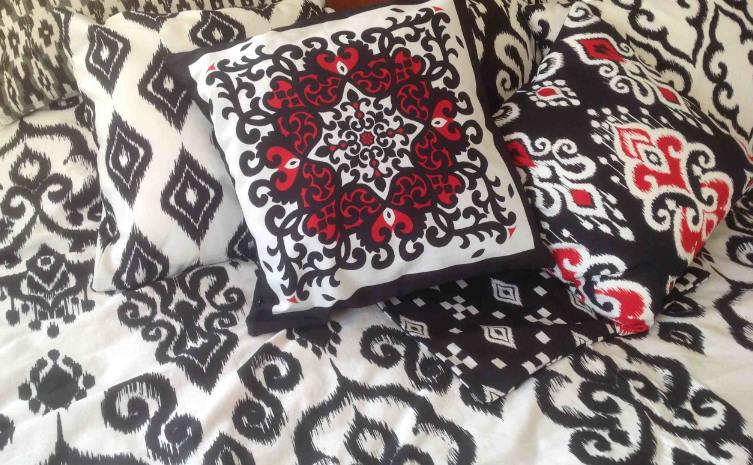 Nomads Ikat Cushions- Altai Mountain Collection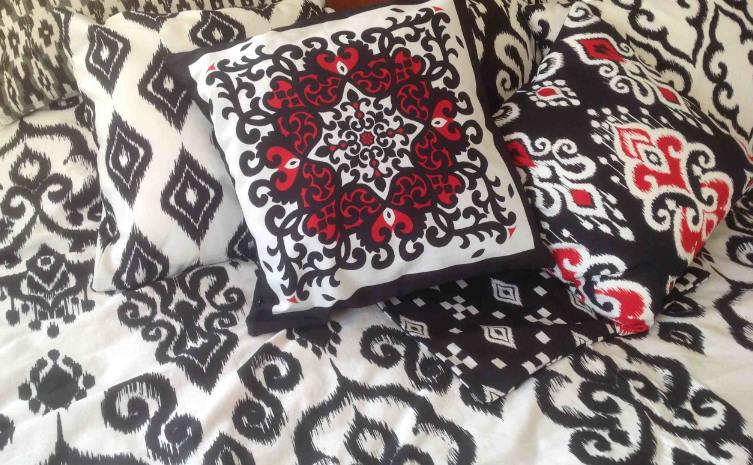 Today we share good news on  our  new Ikat cushions by Nomads UK, which will be the start of what we are calling the "Altai Mountain collection" of this very striking Ikat inspired patterns, which co-ordinate with our new "Panthera Ikat duvet set".
Background Story;
The original design brief, sketches and mood board we created called for a range of cushions, floor cushions and accessories to work with our new Panthera Ikat bed set, our great friend Rachel who is a super talented Artist wizz with surface art design and software programs, and who is a bit of a Tribal Boho chick herself, we created this collection digitally so we could try various colour combinations before we chose the first 10+ sets to be manufactured.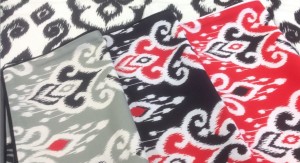 We were spoilt for choice, we ended up creating over 60+ colorway themes, that's the beauty of Ikat style designs, every colour looks cool, Reds, Oranges, Purples, Greys, Lime greens, Sun Yellows, Black & Whites, so much choice !! Then we had to decide where to print.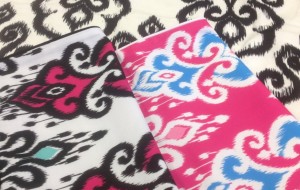 We are running the Nomads range on very strict principles, always try and buy direct from the artist where possible, pay a fair price, so as much money as possible goes to the artisan and his or her family.
When choosing factories we give preference to smaller family enterprises, be it in India, Asia,  Europe or  Great Britain.
As they all need our support to maintain their special skills and and survive against the big impersonal mega factories abroad in China, look at most high street or well known online suppliers of cushions and it says made in China! Well not here at Nomads UK.
This first collection is designed and manufactured in Great Britain, and we are very proud to be supporting British workers, and every cushion you buy in this collection will be helping keep a great British textile printers working and supporting all the skilled machinists based there. The material we used is a lovely cotton mix and is a very high quality fabric.
We split the 1st range into two groups Black & White mono Ikat designs which looks very cool with the Panthera Ikat duvet set and a multi coloured Ikat cushions which can be used to pop some colour into your bedroom or just to lay around in your lounge areas.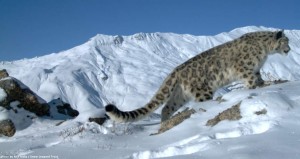 We chose the name Altai collection in respect of the Altai mountain region which is  home to nomadic tribes and the endangered Snow Leopards. We love wild animals here at Nomads as much as we respect the different nomadic tribes and their culture and heritage.
So any thing we can do to help raise awareness of there plight to maintain there culture and the great conservation work done by different groups such as the "Snow Leopard Trust", please support them.
So back to the Altai Cushion Collection, they will be ready to order  early February with or without feather inserts. We hope you like them, and support us as a small business as we support all our artisan suppliers.
You will be able to order in the UK via our first British retail stockist at Bohzaar